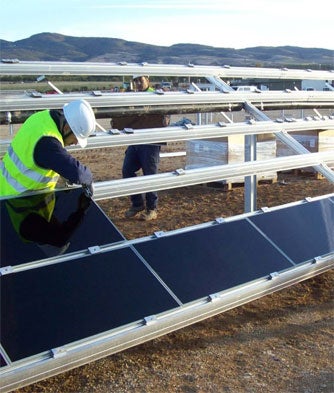 Google has agreed to invest around $103m in Silver Ridge Power's under construction 265.7MWdc (200MWac) Mount Signal utility-scale solar PV generating project in Imperial County, California.
Spread across the 1,963 acres in Antelope Valley, the $636m project, also known as Imperial Valley Solar 1, is likely to generate enough energy to power around 72,000 households.
However, a significant portion of the funds committed by Google is subject to customary conditions precedent, including the commencement of operations at Mount Signal, the first phase of the 800MW Antelope Valley development, which is claimed to be one of the world's largest when complete.
Having received approval in April 2012, the project had started construction in November 2012 and is scheduled to be fully operational in 2014. Once operational, the project will sell its output to the San Diego Gas & Electric under a 25-year power purchase agreement.
In November 2012, Silver Ridge Power, formerly known as AES Solar, a joint venture of AES and Riverstone Holdings, had secured financing for the project in two tranches with the first comprising $416m long-term institutional tranche and the second was $220m cash grant loan.
The first tranche was led by Morgan Stanley and Citigroup Global Markets, acting as joint lead placement agents, and Rabo Securities USA and DNB Markets, acting as co-placement agents, while the second tranche was provided by Morgan Stanley Senior Funding and Citibank.
"The $636m project, also known as Imperial Valley Solar 1, is likely to generate enough energy to power around 72,000 households."
In addition, Rabobank International and DNB Bank have also provided letters of credit as part of financing for the project, which is expected to create 1,000 construction jobs.
In February 2013, 8minutenergy Renewables had announced the successful pre-construction development of the project and handed it over to AES Solar to carry out the remaining construction and operation works.
The pre-construction development activities included transmission, land and economic analysis, siting, land acquisition, permitting, engineering and environmental studies.
Google head of corporate finance Kojo Ako-Asare said that the latest investment represents its commitment to the renewable energy industry.
"This is the first time Silver Ridge Power has partnered with a technology company; we appreciate their innovative approach and we hope to see more such partnerships in the future," said Ako-Asare.
---
Image: Construction on Mount Signal solar project was began in November 2012. Photo: courtesy of Riverstone Holdings.