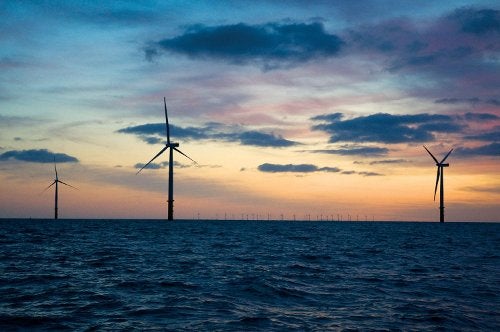 The UK Green Investment Bank (GIB) and Greencoat UK Wind have each acquired a 24.95% stake in RWE Innogy's Rhyl Flats wind farm in North Wales.
The move marks the first direct equity investment in offshore wind by GIB, which will pay £57.5m for its stake in the project.
Located 8km off the North Wales coast, the 90MW Rhyl Flats wind farm features 25 Siemens 3.6MW turbines, and has been operational since March 2010.
In 2011, the wind farm produced about 285GWh of electricity, enough to meet the average annual energy needs of nearly 60,000 households in Britain.
UK Green Investment Bank CEO Shaun Kinsgbury said the deal will help the bank to develop the market for buying and selling operating offshore wind assets to accelerate the development of new renewable projects in the UK.
"At the same time as developing a market, this investment will deliver a commercial return to the bank," Kinsgbury said.
In a seperate agreement, Greencoat UK Wind has acquired a 41% stake in RWE's Little Cheyne Court onshore wind farm in Kent.
RWE, which is retaining majority ownership in both the wind farms, is planning to use the proceeds from the sale to invest in other renewable energy projects in the UK and Europe.
RWE Innogy COO Paul Coffey said; "With a current pipeline of 12GW across Europe, we are fully committed to growth in low-carbon technologies, and by raising capital in this way, it will enable the UK to continue to play a significant role in the delivery of this pipeline, as we continue to invest in, build and operate more sites."
---
Image: The 90MW Rhyl Flats wind farm features 25 Siemens 3.6MW turbines. Photo: Courtesy of RWE.