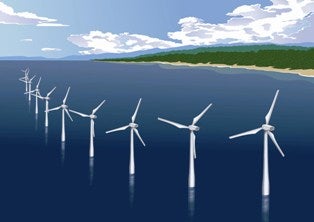 A seven-member consortium led by Hitachi Zosen is planning to construct offshore wind farms in Japan for an estimated cost of JPY120bn ($1.53bn).
Toshiba, JFE Holdings, Japan Weather Association, Toa, Sumitomo Electric Industries, and Toyo Construction form the remaining six members of the consortium.
Tomomitsu Yamamoto, Hitachi spokesman, told Bloomberg that the group, which plans to build the wind farms with a combined capacity of 300MW over a decade, will initially complete 7.5MW of pilot plants by 2016.
The Fukushima nuclear disaster last year has prompted the government to reduce reliance on nuclear energy in favour of natural gas and renewable sources.
In July 2012, the Japanese government introduced incentives to promote clean energy investments.
The news from Hitachi Zosen comes at a time when Japanese power utilities have to buy electricity from solar and wind projects at above-market rates.
A special purpose vehicle may be formed by the group which will seek funds for the construction of the proposed wind farms, Hitachi said on its website.
---
Image: Illustration of the proposed wind farms to be built off the coast of Japan. Photo: Hitachi Zosen Corporation.