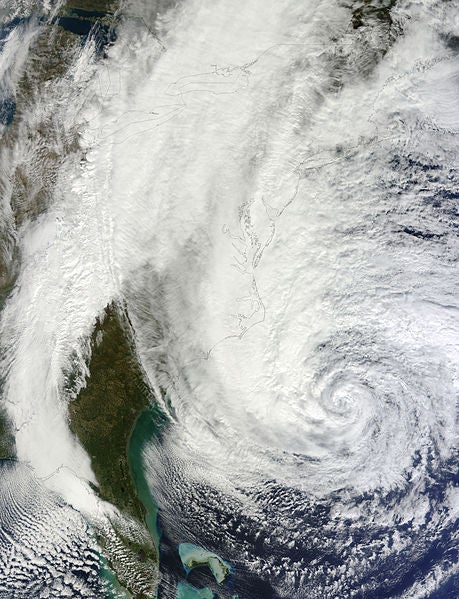 Over 7m people have been left without power as Hurricane Sandy tears through the US.
The storm made landfall in New Jersey on Monday with 80mphwinds and cut power to more than 7.5m homes and businesses from North Carolina to Ohio.
The US Nuclear Regulatory Commission said it is continuing to monitor impacts from Hurricane Sandy on nuclear power plants in the Northeastern US, including an alert declared at Exelon Corp's Oyster Creek plant in New Jersey.
The plant, currently in a regularly scheduled outage, declared the alert on Monday 8:45 pm EDT due to water exceeding "high water level criteria" in the plant's water intake structure.
President Barack Obama, who has cancelled presidential campaigns ahead of the US election on Tuesday, has declared a major disaster in New York and freed up federal aid for victims in the city. It is estimated that 16 people have been killed in the storm.
The Metropolitan Transportation Authority in New York cut power to some subway tunnels in lower Manhattan after tracks were flooded and New York University's Tisch Hospital was forced to evacuate 200 patients after a backup generator failed on Monday.
New York Utility Co Edison announced today that more than 650,000 customers in the city and Westchester County lost electrical power due to the hurricane.
"This is the largest storm-related outage in our history," said Con Edison senior vice president for Electric Operations John Miksad. The previous record was more than 200,000 customers affected by Hurricane Irene in 2011.
Sandy lost its hurricane status late on Monday but still threatens the Midwest with 60mph winds and waves of up to 22 feet on Lake Michigan, according to forecasts by the National Weather Service.
More power outages are expected in the coming days. Obama said on Monday: "The public should anticipate that there's going to be a lot of power outages. And it may take time for that power to get back on."
According to experts at the John Hopkins University in Baltimore, Maryland, 10m people in the mid-Atlantic could be left in the dark this week.
---
Image: Hurricane Sandy has affected Jamaica, Cuba, The Bahamas, Haiti, the Dominican Republic, and the US.