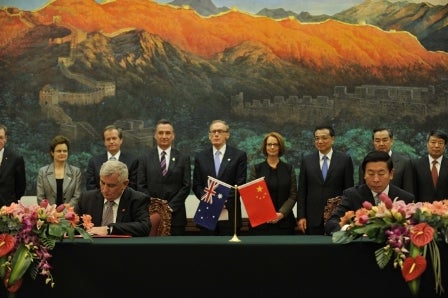 Australia's leading renewable energy company Hydro Tasmania has signed a cooperation deal with Chinese energy firm Shenhua Group to jointly invest up to $1.6bn to build wind farms in Australia.
Under the agreement, both companies will collaborate to develop, build and operate 700MW of wind farms in Australia by 2020.
Australian Prime Minister Julia Gillard, who is touring China as part of her six-day trade mission, and the Premier of China, Li Keqiang, attended the signing ceremony.
Commenting on the development, Hydro Tasmania chairman Dr David Crean said the new agreement builds upon the existing relationship between the two groups.
"This follows on from the Roaring 40s joint venture involving Shenhua subsidiary Guohua and Hydro Tasmania from 2007 to 2009 where several wind farms were jointly constructed and managed in China," said Dr Crean.
In February,Shenhua Group's subsidiary Shenhua Clean Energy Holdings acquired a 75% stake in the Musselroe Wind Farm, being built by Hydro Tasmania in north-east Tasmania.
In 2011, a similar stake was acquired by Shenhua in Woolnorth wind farm, in which Hydro Tasmania owns a 25% stake.
Hydro Tasmania CEO Roy Adair hailed Shenhua Group as a first-class strategic partner for Hydro Tasmania and for the state.
"The company is one of the world's largest wind developers and brings a wealth of expertise in the renewable energy sector and a strong interest in working with us on other renewable energy projects," Adair added.
---
Image: The signing ceremony took place in Beijing on Tuesday. Photo: Courtesy of Hydro Tasmania.