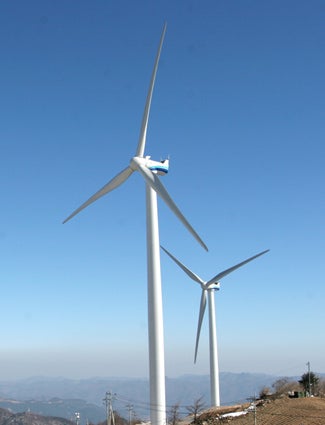 Wind turbine supplier Hyundai Heavy Industries (HHI) will supply the Yeongam wind farm in Jeollanam-do, South Korea, with 40MW of turbines.
Under the order received from South Korean wind projects developer DaeMyoung GEC, HHI will supply 20 sets of 2MW wind turbines for the Yeongam project.
The company said its 2MW turbines, which feature 'reliable' performance with 'proven' technology, are expected to be delivered in July 2013.
HHI will be responsible for supervision and commissioning of the installation, as well as long-term maintenance, for which a service agreement is expected to be signed shortly.
After completion in November 2013, the Yeongam Wind Farm will generate enough clean electricity to power nearly 30,000 households in the region per year.
HHI is also planning to install a 5.5MW prototype offshore wind turbine northwest off the coast of Jeju Island, by the end of 2013.
The company has already installed wind turbines with a combined total of 24MW in Taebaek Wind Farm and Changjuk Wind Farm in Gangwon-do, South Korea.
In a separate release, France-based Alstom said it will supply a grid connection to the DolWin offshore wind farm in the North Sea, as part of an order worth around £125m.
The DolWin3 project, which is owned by German North Sea transmission system operator TenneT, will utilise high voltage direct current (HVDC) technology, designed and built at Alstom's centre in Stafford, England.
---
Image: HHI's 2MW wind turbines in operation at Changjuk Wind Farm in Gangwon-do, South Korea. Photo: Courtesy of HHI.