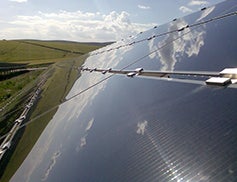 Iberdrola Ingenieria has secured a $150m contract from Jasper Power Company to construct a 96MW photovoltaic (PV) plant in South Africa.
Working in partnership with South African firm Group Five, Iberdrola will supply equipment and provide engineering and operations and maintenance services for the Jasper PV plant over 15 years.
As part of the deal, the partnership will also develop a 132kV overhead power line that will connect the infrastructure to the national grid.
Located near the city of Postmasburg, in the Northern Cape province, the Jasper PV plant is part of a project led by the US firm Solar Reserve.
The plant will occupy a 180ha site and will feature more than 325,000 polycrystalline modules.
The project forms part of South Africa Renewable Energy Independent Power Producer Procurement programme, which involves the construction of eight photovoltaic plants and seven wind farms.
A bidding process will be launched under the programme for a total capacity of 3,725MW through five rounds.
The South African government recently announced its intention to launch a second renewable energy programme once the existing plan is complete, in order to add another 3,200MW of clean generation to the grid before 2020.
Earlier this year, Iberdrola secured contracts to construct two wind farms, named Noblesfontein and Klipheuwel, in South Africa.
Located in the south-west of the country, both the wind farms will have a total capacity of 101MW.
---
Image: The 96MW Jasper PV plant will feature more than 325,000 polycrystalline modules. Photo: Courtesy of Iberdrola.