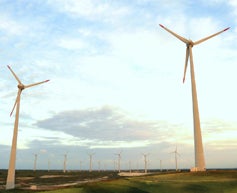 Iberdrola, in partnership with Neoenergia, will sign ten loan agreements to finance the construction of ten wind farms in Brazil.
The loans, worth €300m in total, will be signed with Banco Nacional do Desenvolvimento Economico y Social (BNDES) and Banco do Brasil.
The wind farms, which include Calango 1, 2, 3, 4 and 5; Caetité 1, 2 and 3; Arizona 1; and Mel 2, are located in the states of Río Grande do Norte and Bahía and will have a total generating capacity of 288MW.
The joint partnership won the contract in August 2010 at the second tender for renewable energy organised by the National Electric Energy Agency (Aneel).
Work is already underway on four wind farms while construction activity will begin on the other remaining wind farms over the coming months.
Gamesa will supply wind turbines, manufactured at its factory in Camaçarí, in the state of Bahía, to be installed for all the facilities.
The projects will generate clean renewable energy meet the supply needs of nearly 450,000 Brazilians, offsetting 510,000t of CO2 a year.
---
Image: Gamesa will supply wind turbines for the wind farms being built in Brazil. Photo: courtesy of Iberdrola.