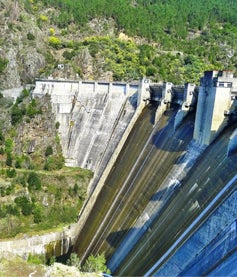 Iberdrola has opened the Santo Estevo II hydroelectric power plant in Galicia, Spain.
Located in the Sil river basin, close to the village of Nogueira de Ramuin, Santo Estevo II has an installed capacity of 441MW and an estimated annual production of 1,000GW an hour, enough to power about 285,000 homes.
The project will optimise existing infrastructures, which include a dam, reservoir, substation and export power lines, with a capacity of 176.9MW.
The hydroelectric plant – Galicia's largest – began commerical operations and produced 200GWh in the first quarter.
Iberdrola has invested more than €1.1bn in Galicia and made purchases of €1.2bn from over 200 local providers in the past decade.
Work at Santo Estevo II started in September 2008 and was completed at the end of 2012.
Iberdrola chairman Ignacio Galan and Galicia regional government head Alberto Nuñez Feijoo said: "It is our intention to continue supporting Galicia as we have until now, actively supporting local manufacturers and service providers and being an engine for growth."
---
Image: Santo Estevo II hydroelectric power plant was built in the Sil river basin. Photo: Courtesy of Iberdrola.