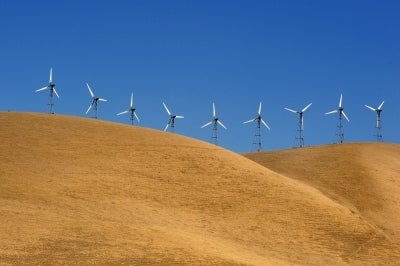 Iberdrola Renewables has won a land lease bid from the New Mexico State Land Office for a proposed wind energy project to be built on the state trust land in Torrance County.
The company has secured a 45-year lease of 39,000 acres in Torrance, San Miguel,and Santa Fe counties that will be used for the wind-power project and transmission lines, construction of which takes place in several phases over the next ten years.
The proposed El Cabo project, spread across some 87,000 acres of private land including 39,000 acres of federal land, will generate an estimated 1,000MW of electricity, which will generate enough electricity to power 400,000 homes.
Having already reached an agreement with PNM Resources for power generated at the project, construction on Phase I, featuring around 149 turbines with a total capacity of 300MW, is likely to begin by the end of 2013.
The project will create 1,600 construction jobs and provide benefits to the local communities in the form of a financial windfall of around $30m over 30 years.
"The project will create 1,600 construction jobs and provide benefits to the local communities."
The financial windfall is likely to be shared among the three government agencies including Torrance County (60%), Estancia Municipal School District (20%) and Vaughn Municipal Schools (20%).
The State Land Office has sought bids for the proposed wind energy project in July 2013 and the Torrance County commission has approved a resolution to issue a $450m industrial bond for the project in August 2013.
Iberdrola development director Mark Stacy said that the company has thanked the state office for awarding the lease bid, which will help it to move forward with the El Cabo project.
"We look forward to continued collaboration with the State Land Office, Torrance County and other community stakeholders as we work towards making this project a reality, and bringing jobs and other economic benefits to the local communities and to the state of New Mexico," said Stacy.
---
Image: New Mexico State Land Office leases 39,000 acres of land in Torrance County to Iberdrola. Photo: courtesy of Freedigitalphotos.