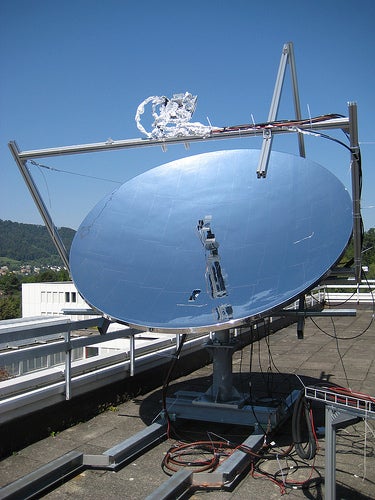 The Swiss Commission for Technology and Innovation has awarded a three-year, $2.4m grant to a collaboration of scientists to research and develop a high concentration photovoltaic thermal (HCPVT) system.
The proposed system will be capable of concentrating solar radiation 2,000 times and converting 80% of the incoming radiation into useful energy.
Scientists from IBM Research, Airlight Energy, ETH Zurich and Interstate University of Applied Sciences Buchs NTB will work together on the project.
The HCPVT system uses a large parabolic dish, made from a multitude of mirror facets, which is attached to a tracking system.
Once adjusted, the sun's rays reflect off the mirror onto several microchannel-liquid cooled receivers with triple junction photovoltaic chips, which will be placed on microstructured layers.
The multi-chip receiver combines hundreds of chips and provides 25kW of electrical power and its design is based on high power processor coolers developed during an earlier collaboration between IBM and Egypt Nanotechnology Research Center.
The layers pipe liquid coolants within a few tens of micrometers off the chip to absorb the heat and draw it away.
The coolant maintains the chips almost at the same temperature for a solar concentration of 2,000 times and can keep them at safe temperatures up to a solar concentration of 5,000 times.
IBM Research manager of advanced thermal packaging Bruno Michel said that researchers plan to use triple-junction photovoltaic cells on a microchannel cooled module to convert over 30% of collected solar radiation into electrical energy and efficiently recover waste heat above 50%.
"We believe that we can achieve this with a very practical design that is made of innovative concrete trackers, primary optics composed of inexpensive pneumatic mirrors and structures made of concrete – it's frugal innovation, but builds on decades of experience in lightweight and high strength concrete elements used for building bridges," Michel added.
The solar concentrating optics will be developed by ETH Zurich and a prototype of the HCPVT is currently being tested at the IBM Research lab in Zurich, Switzerland.
As part of the collaboration, several prototypes of the HCPVT system will be built in Biasca and Rüschlikon in Switzerland.
---
Image: The proposed HCPVT system will be capable of concentrating solar radiation 2,000 times. Photo: Courtesy of IBM.