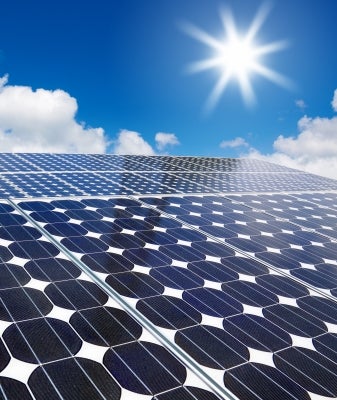 The Indian state of Madhya Pradesh will host the country's biggest solar power plant, in Neemuch in the Malwa region.
In a meeting attended by Indian new and renewable energy minister, Ajay Vishnoi, it was revealed that 1,000 acres of land has been earmarked for the 130MW solar project.
In Madhya Pradesh the share of renewable energy in total energy generation is 5%, with work underway for 311MW solar power projects in the state, an offcial release said.
The state intends to generate as much as 460MW of solar power by March 2014, and 1,250MW by March 2015.
In the next two years, about 2,500MW solar power will be produced in the state, which was generating 448MW in April 2012.
Large-scale generation is expected to increase the share of renewal energy generation in total energy generation to 19% from 5%.
By December 2014, about 1,300MW wind power projects will be established in Madhya Pradesh, while 100MW of renewable power will be generated by biomass projects.
---
Image: A solar power plant with 130MW capacity will developed in Neemuch, Madhya Pradesh, India. Photo: Courtesy of FreeDigitalPhotos.net.