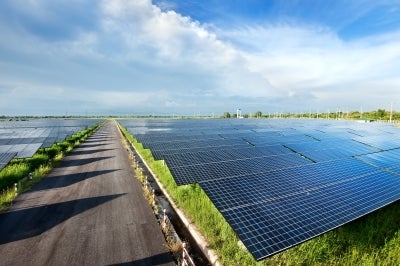 The government of India have announced plans to develop a solar power project, claimed to be the world's largest, with a capacity of 4,000MW on a site close to Sambhar Lake and about 75km from the Jaipur, Rajasthan.
Officially coined as 'Sambhar ultra-mega green solar power project', the project will spread across 23,000 acres area, including 18,000 acre-bit of Sambhar Salts, a subsidiary of Hindustan Salts.
A joint venture of public sector utilities including Bharat Heavy Electricals, Power Grid Corporation of India, Solar Energy Corporation of India (SECI), Hindustan Salts, SJVN and Rajasthan Electronics & Instruments, is likely to build the first phase (1,000MW) of the project and expects to commission it by 2016.
"The total project will generate 6,000 million units of electricity annually."
After completion of the first phase, the joint venture company will move forward with variety of models to implement the remaining capacity of the project.
Once operational, the total project will generate 6,000 million units of electricity annually and is likely to sell its output at INR5.50 (about 9 cents) a unit, reducing the cost of solar energy by an estimated 20% from the current INR7 a unit.
SECI is considering getting a part of finance for the project through viability gap funding from the national clean energy fund, managed by the Ministry of Finance, while the remaining amount would be attained through power purchase agreements with power distribution companies.
The proposed project will significantly contribute to the national mission, Jawaharlal Nehru National Solar Mission, which has set a target to add 20GW grid-connected solar power capacity by 2020.
---
Image: Rajasthan state of India to host 4GW solar power project. Photo: courtesy of Freedigitalphotos.