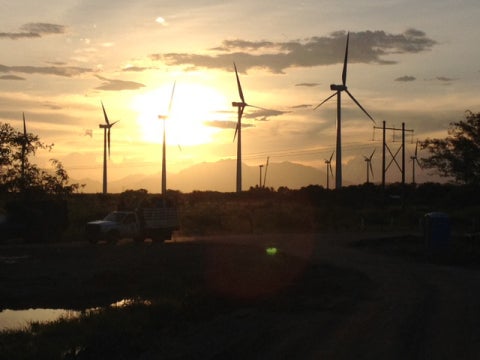 Japanese conglomerate Mitsui has agreed with EDF EN Mexico to participate in the 164MW Bii Stinu wind project, located in the Mexican city of Oaxaca.
Mitsui, through its newly established subsidiary MIT Renewables Mexico, will buy a 50% stake in the common stock of Eoliatec del Istmo, the owner of Bii Stinu Wind Project.
EDF EN Mexico has completed both development activities and financing arrangements for the wind project, which will cost around MXN5.1bn ($401.82m) to complete.
Construction works are in the advance stage at the Bii Stinu project, which is slated to begin commercial operations in June 2013.
Clean electricity produced at the wind project will be supplied to various entities of five major private-sector companies, based on power purchase agreements for a period of 15 years.
Mitsui is currently participating in 2,922MW of gross generation capacity in Mexico, including six gas-fired power generating stations.
With the Bii Stinu project, Mitsui has a generating portfolio of 5,916MW worldwide.
EDF EN Group's portfolio of renewable energy assets includes 4,200MW, which are spread across 16 European and North American countries, as of June 2012.
Currently, EDF EN Mexico owns a 67.5MW wind power project, in addition to a total of 460MW assets under various stages of development in Oaxaca.
---
Image: The 164MW Bii Stinu wind power project in Oaxaca, Mexico. Photo: courtesy of Business Wire.