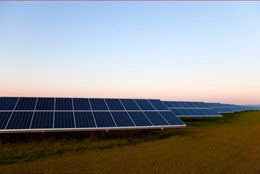 Chinese PV product manufacturer JinkoSolar has announced three agreements with Spanish energy company Acciona for the supply of its high-efficiency solar PV modules totaling 274MWp capacity.
According to the agreement, JinkoSolar will deliver 94MWp of solar modules to Oakleaf Investment Holdings 86, a joint-venture invested by Acciona and its South African local partner, for a project located in Northern Cape province, South Africa.
The South African project will feature 319,600 JinkoSolar PV modules, which will be delivered starting November 2013 through to September 2014. It will generate around 206GWh annually.
Another agreement calls for the supply of 24.07MWp of solar modules beginning from October 2013 through to December 2013 to the Royalla PV solar plant, which will be built by Acciona Energy Oceania in the ACT territory of Australia.
The Royalla project will feature approximately 81,600 modules and generate enough electricity to power 4,500 Canberra houses.
The last agreement, which is subject to further discussion, will see JinkoSolar supply 156MWp modules to Acciona. JinkoSolar is likely to sign final definitive supply agreements with the parties in the future.
"JinkoSolar is likely to sign final definitive supply agreements with the parties in the future."
JinkoSolar chairman Xiande Li said that the agreements with Acciona in South Africa and Australia will help in diversifying the countries' clean energy mix.
"We will work closely with Acciona, our reliable partner, to fulfill our shared commitment to delivering affordable solar electricity to the world," said Li.
South Africa plans to award 3.7GW in clean energy projects by the end of 2013 as part of its longer-term strategy to have 17GW of new renewable energy capacity by 2030.
Solar power currently powers 10% of Australians and is likely to provide a third of Australia's total energy needs by 2050, according to the Climate Commission's solar energy report.
---
Image: Royalla project in Australia and a project in South Africa will feature JinkoSolar modules. Photo: courtesy of JinkoSolar.