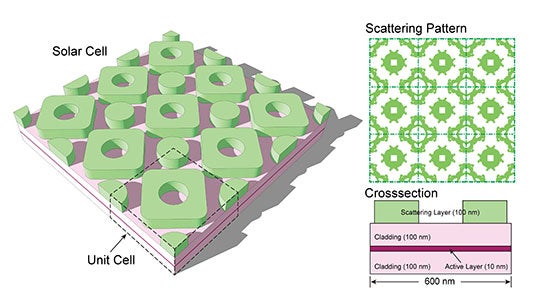 Scientists in the US have developed and 'evolved' a low-cost organic solar cell that could lead to more efficient solar power generation.
Organic solar cells, which are made from carbon, oxygen and nitrogen, are cheaper to make but aren't as efficient at harnessing the sun's energy as silicon cells.
But researchers at Northwestern University, Illinois have employed a genetic algorithm, a search process that mimics the process of natural evolution, to write a computer programme that 'mates' random design elements and analyses their 'offspring' to determine their light trapping performance.
The programme simulated more than 20 generations of 'matings' to come up with a geometric pattern for the solar cell's top layer, or the 'scattering layer', to maximise the amount of time light remained trapped within the cell.
Light first enters a 100nm-thick scattering layer in the newly designed organic solar cell, and then transmitted to the active layer where it gets converted into electricity.
The study's results were published in a paper titled, "Highly Efficient Light-Trapping Structure Design Inspired by Natural Evolution" in the Scientific Reports journal.
Co-author of the paper, professor Cheng Sun, noted that his team intended to determine the geometry for the scattering layer that was expected to give an optimal performance.
"But with so many possibilities, it's difficult to know where to start, so we looked to laws of natural selection to guide us," Sun added.
Co-investigator of the research, professor Wei Chen added, "Due to the highly nonlinear and irregular behavior of the system, you must use an intelligent approach to find the optimal solution. Our approach is based on the biologically evolutionary process of survival of the fittest."
---
Image: A geometrically-patterned light scattering layer has been designed that could make solar cells more efficient and less expensive. Photo: courtesy of Northwestern University.