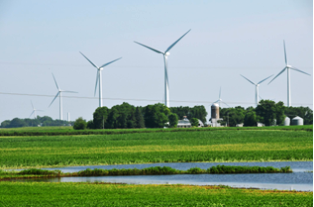 Japan-based Marubeni will acquire a 50% economic interest in the 205.5MW Lakefield wind project owned by EDF Renewable Energy.
The two companies have signed an agreement under which a subsidiary of Marubeni will acquire the interest in the wind power generation project, which is located in Jackson County, Minnesota.
Under a 20-year power purchase agreement with Indianapolis Power & Light, the fully operational wind project supplies clean electricity into the MISO transmission system.
The Lakefield project, which commenced operations in 2011, consists of 137 GE's 1.5MW wind turbines with the capacity to generate 205.5MW of electricity, enough to power over 68,000 homes in the region.
Marubeni will be involved in asset management roles, and along with EDF Renewable Energy, in the administration of the project, while EDF Renewable Services will continue to provide operations and maintenance services.
EDF Renewable Energy president and CEO Tristan Grimbert said: "As an integrated operator we take a balanced approach to our project portfolio and this agreement provides an opportunity to further our ambition as a world-class renewable project developer.
"The mutual confidence and collaboration between our two companies demonstrates solid business practices."
Marubeni Power International president and CEO Toshi Fukumura said: "With this investment we recognize the experience and successful track record of EDF Renewable Energy and we look forward to expanding our relationship in North America and other global markets."
---
Image: The Lakefield project consists of 137 GE's 1.5MW wind turbines with the capacity to generate 205.5MW of renewable energy. Photo: courtesy of Marubeni.