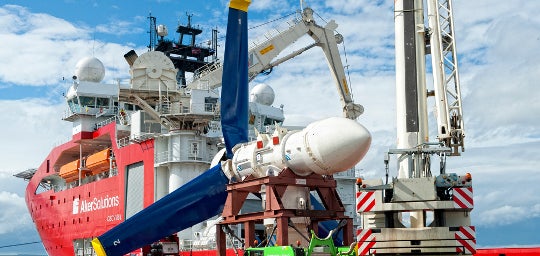 MeyGen has won consent from the Government of Scotland to develop its proposed 398MW tidal energy project in the Pentland Firth.
The project site is located around 3.5km² of the Pentland Firth, off the north coast of Scotland between Caithness on the Scottish mainland and the island of Stroma.
The company will begin construction in various stages, beginning with a 9MW demonstration project of up to six turbines. The demonstration project will act as a precursor to the subsequent developments, as the company wants to test operations on a smaller scale before constructing large commercial arrays.
The project will include two phases with phase one comprising of 86 turbines of 1MW each, while phase two will comprise of the remaining turbines of same capacity each. However, the company requires filing a separate consent application for phase two.
Once up and running, the 86MW phase one array is expected to generate enough electricity to power the equivalent of 42,000 homes, or around 40% of homes in the Highlands.
"It is expected to generate enough electricity to power around 40% of homes in the Highlands."
The project, which will have an operational life of 20-25 years, is likely to feature Atlantis Resources' AK-1000 and Tidal Generation 1MW horizontal axis tidal energy turbines with 18m rotor diameters.
Earlier in October 2010, MeyGen secured lease agreement from the crown estate for the area.
Scotland's energy minister, Fergus Ewing, said that the government has authorised MeyGen to move forward with the tidal turbine array development.
"This exciting development in the waters around Orkney is just the first phase for a site that could eventually yield up 398 megawatts," said Ewing.
---
Image: Pentland Firth tidal energy project will feature Atlantis Resources and tidal generation tidal energy turbines. Photo: courtesy of Meygen.