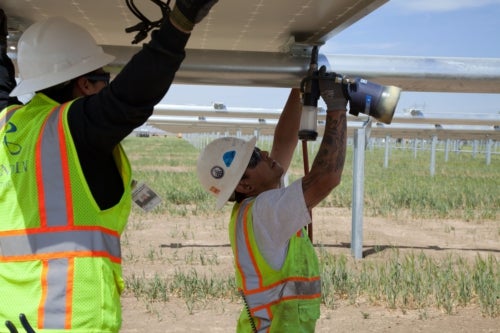 Energy firms MidAmerican Solar and SunPower have started construction on the 579MW Antelope Valley Solar project in California, US.
The development is made up of two photovoltaic (PV) plants, which will be located in Kern and Los Angeles counties, and will generate enough energy to power 400,000 homes in the state.
Together, the projects will make up the world's largest solar power development under construction.
MidAmerican Solar has agreed to sell the electricity generated by both facilities to Southern California Edison under two long-term contracts.
SunPower designed and developed the projects and also serves as the engineering, procurement and construction contractor.
The company has also agreed to provide operations and maintenance services for the plants under a multiyear services agreement.
SunPower president Howard Wenger said: "The start of construction on the Antelope Valley Solar Projects underscores that solar is a reliable, cost-competitive energy source."
She added: "SunPower is proud to partner with MidAmerican Solar and Southern California Edison on this historic project, which is bringing critically needed jobs and economic opportunity to California today and will generate abundant clean, renewable power to the state over the long term."
The plants will use SunPower's modular Oasis Power Plant product, which features PV modules mounted on T0 trackers.
Electricity generated by both the plants is expected to displace about 775,000 metric tonnes of carbon dioxide per year.
Construction of the plants is expected to be completed by the end of 2015.
---
Image: Solar modules being installed at the Antelope Valley plants. Photo: Courtesy of PRNewsFoto/SunPower Corp.