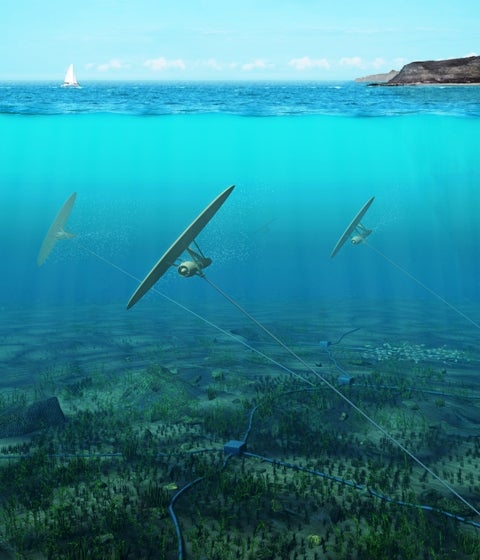 Swedish marine energy technology developer Minesto has identified Welsh waters as a suitable location to install its Deep Green, a new concept for tidal power plants following Sustainable Expansion of the Applied Coastal and Marine Sectors' (SEACAMS) analysis on sea conditions yielded positive results.
SEACAMS collected and processed data on tidal currents and seabed conditions, while Minesto evaluated the data. Backed by European regional development funding through the Welsh Government, SEACAMS is aimed at assisting in the expansion of the coastal and marine sector in Wales.
Meanwhile, the Welsh Government has recently prioritised the development of renewable marine energy and reported that marine energy could significantly contribute £840m annually for the Welsh economy.
Having completed a test programme in Strangford Lough in 2011/2012, Minesto plans to deploy a 3MW Deep Green array in 2015 and expand it to 10MW in 2016.
The Deep Green technology features a hydrodynamic wing, tether and swivel; the kite assembly (wing and turbine) is attached to a fixed point on the ocean bed using a tether, which is anchored to the swivel mounted on the foundation.
"Minesto plans to deploy a 3MW Deep Green array in 2015 and expand it to 10MW in 2016."
The swivel allows flexible movement of the tether in all directions, depending on the current velocity direction and the kite motions; the tether, a force bearing element, will take the high loads created by the wing as well as host power cables from the generator and signal cable to the control system.
The water flows over the wing would produce lift force, which allows smoother movement of the device through the water and rotation of the turbine, thereby generating electricity.
Minesto CEO Anders Jansson said that these developments in Wales can create highly qualified jobs in the region and also build local expertise in marine energy.
---
Image: 'Underwater kite' power plants produce electricity from low velocity currents. Photo: courtesy of Minesto.