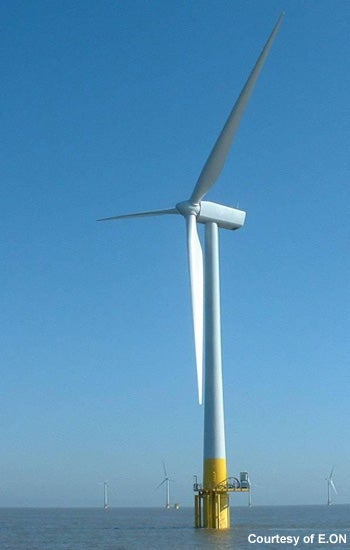 Renewable energy consultancy Natural Power has published an ecological monitoring programme report on the marine environment at the 180MW Robin Rigg offshore wind farm in the Solway Firth, Scotland.
The report, which was published on behalf of the wind farm's owner, E.ON, is one of the commitments under planning required for the Marine Environment Monitoring Plan (MEMP).
The remit of the MEMP was to monitor key uncertainties and record any changes to the physical and ecological environment that may be caused by the construction and operation of the wind farm.
Robin Rigg is the first commercial offshore wind farm in Scottish waters.
It features 60 Vestas V90-3MW turbines, which each have an 80m hub height and generate 3MW of power.
The turbines are supported on foundations, which usually extend 30m to 40m into the sea bed.
The wind farm will provide electricity to 120,000 homes and will displace 235,000 tonnes of carbon dioxide every year.
Jane Lancaster, who provided the report, said that there is little evidence that the construction and operation of the Robin Rigg wind farm has had any significant or permanent impact upon the marine life in the immediate or surrounding area.
"During the course of the surveys, 38 species of fish and over 150 types of invertebrate have been found. Whilst in and around the site and cable route, 38 species of bird and two species of marine mammal have been observed," Lancaster added.
Site observations have also shown an increase in the distribution and utilisation of areas of the Solway Firth by cormorants and gull species in the area, as well as potential displacement effects during construction for auk species, guillemot and razorbill.
---
Image: Robin Rigg is one of the largest offshore wind farms in the UK.