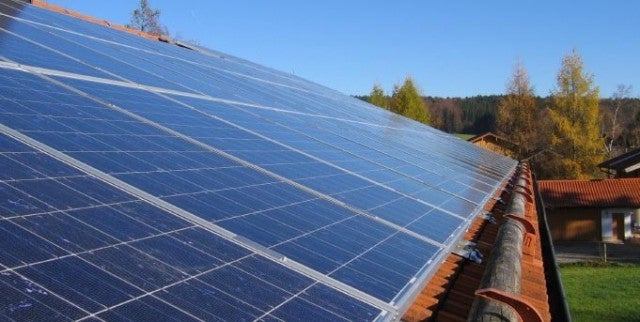 The new Spanish energy reform bill proposal that includes a fee for electricity generated from solar panels or other renewable sources will pose a threat to the renewable growth and might prove detrimental to the 'autoconsumo' system, under which Spaniards independently generate clean energy for self-consumption.
The new bill requires consumers to pay a backup toll for the self-generation of power from solar panels, besides paying the access toll paid for electricity from the conventional grid. For instance, if a consumer pays an access toll of €0.053 per kWh, he may face a backup toll of €0.068 per kWh for self-generation.
The new fee being imposed will triple the projected payback period from eight to 25 years for independent solar generation, thereby hindering the development of small-scale, community-owned renewable projects.
Spanish solar energy association SEBA secretary Jaume Serrasolses told BBC that Spain will be the only country in the world imposing charges for the use of solar resources.
"Nobody is going to make significant investment if it takes more than 20 years to pay it off," said Serrasolses.
Justifying its move, the Spanish Government said that the increase in self-consumption is likely to reduce income for conventional energy systems, with grid maintenance cost remaining the same.
" The Spanish Government said that the increase in self-consumption is likely to reduce income for conventional energy systems."
The government's motive behind the new proposal is to raise money for settling the debt of €26bn ($35bn), the subsidised amount which the country owes to power companies for selling electricity at less than cost to its customers.
Prior to the financial crisis that hit the country in 2008, Spain announced plans to promote the renewable energy industry and pledged to raise subsidies for solar generation by 12 times, while power companies including Iberdrola, Endesa and Acciona had put up extensive efforts to reap benefits from such schemes.
Spanish Industry Minister Jose Manuel Soria said that though painful, the government has stepped back on such promises and has come up with the new measures to settle the energy deficit.
However, many groups including Friends of the Earth and the country's energy regulator have accused the government's bill of putting the profits of power companies ahead of public and environmental interests, and argued that it will only exacerbate problems and concluded that it makes self-consumption economically unviable.
---
Image: Spain to levy solar tax under new energy reform bill. Photo: courtesy of Friends of the Earth.