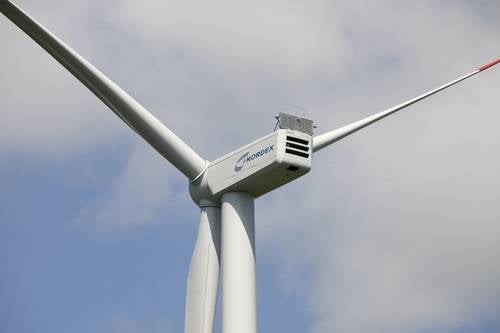 German turbine manufacturer Nordex has secured a 55MW turbine contract from the Infinis Group, for wind farms in the UK.
Infinis has ordered a total of 22 units of N90/2500 and N80/2500 strong-wind turbines for projects in Scotland and England.
Lars Bondo Krogsgaard, a member of Nordex's management board responsible for sales, service and project management, said: "We are delighted to have secured these further projects with Infinis and look forward to building out the five project portfolio with one of the UK's largest independent renewable energy generators."
In Scotland, Nordex will install five N80/2500 turbines at the Gordonstown Hill project and five N90/2500 turbines at the Westfield wind farm.
Nordex booked 11 of the 22 units of 2.5MW turbines as a firm order intake in the first quarter of 2012.
A further 12 machines will be installed in England at the Wingates, Blackstone Edge and Tedder Hill wind farms.
Work on the projects is scheduled to commence in 2012, with all the turbines due to be operational by March 2013, said Nordex.
Infinis is already operating twelve N90/2500 turbines at the Lissett Airfield wind farm, which Nordex installed in 2008.
The company said the latest orders will surpass 1gW of installed capacity in the UK and Ireland this year.
---
Image: Nordex will equip UK wind farms with 55MW of turbines. Photo: courtesy of Nordex.