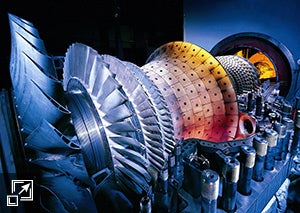 US-based private equity firm, Panda Power Funds, has acquired a majority interest in the proposed 750MW Stonewall combined cycle project, a natural gas-fired power plant to be located in an industrial-zoned area of Loudoun County, Virginia.
Originally proposed by Green Energy Partners / Stonewall, the project will include two identical natural gas-fired combined cycle turbines, each with its own duct-fired heat recovery steam generator, one steam turbine generator, a ten-cell mechanical draft cooling tower, a natural gas-fired auxiliary boiler, and a fuel heater.
The developers proposed to use either General Electric (7FA.05) or Siemens (SGT6-5000F5) natural gas-fired combined cycle turbines at the plant, which will span across a 101-acre parcel around four miles south/southeast of Leesburg.
Once operational during the spring of 2017, the plant will generate enough electricity to supply the power needs of around 750,000 homes in the Northern Virginia / Washington DC metropolitan area and will meet new carbon emissions standards proposed by the US Environment Protection Agency.
Bechtel Development, a subsidiary of Bechtel, will be responsible for the engineering, procurement and construction of the Stonewall facility and will take approximately 30 months to complete, subject to financing, regulatory approvals and other conditions.
"It will create 600 jobs at its peak construction."
The plant will generate an estimated $20m annually in direct and indirect spending, increase the tax base in Loudoun County and the Commonwealth.
The project, which received air permit from the Virginia Department of Environmental Quality in April 2013, will create 600 jobs at its peak construction and about 30 long-term jobs during operations of the plant.
Panda Power Funds president and senior partner Todd Carter said that the project will enable and strengthen reliable supply of power in the region.
"Elected officials are being far sighted in working to secure the future. We look forward to working with Commonwealth leadership and our local partners in bringing this project through to completion," said Carter.
---
Image: Stonewall combined cycle project to feature either GE or Siemens turbines. Photo: courtesy of Panda Power Funds.