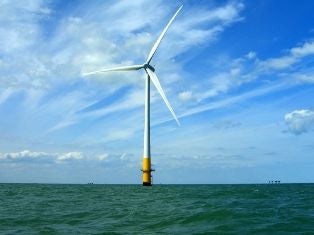 Samsung Heavy Industries (SHI) has won a contract to build an 84MW wind farm off the coast of South Korea's Jeju Island.
The project will see 14 of Samsung's latest 7MW turbines installed in shallow waters off the Coast of Jeju Island's Daejeong County, with operations likely to begin in 2015.
The value of the contract has not been disclosed.
Daejeong Offshore Wind Power (DOWP), a joint venture set up by SHI and state-run power company Korea Southern Power, will operate the wind farm.
DOWP also has plans to expand the wind farm to 200MW if the initial installation of the project goes seamlessly, reports the Korea Herald.
Samsung Heavy currently holds a 60.05% stake in DOWP.
Earlier this year SHI announced that it had successfully built Pacific Orca, the world's largest wind farm installation vessel (WIV), and delivered it to SPO (Swire Pacific Offshore), a Singapore-based shipper.
The demand of wind farm vessels is expected to grow as the focus of the wind power generation market shifts from in-land wind farms to offshore wind farms, the company said.
---
Image: The Jeju Island will be one of South Korea's first commercial offshore wind farms, and the first to use Samsung's 7MW machine. Photo: courtesy of Phil Hollman.