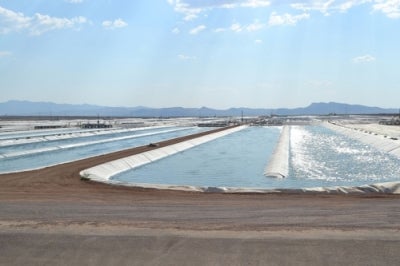 Sapphire Energy has completed the first phase of its commercial demonstration algae-to-energy facility, Green Crude Farm, in New Mexico, US.
The first phase of construction began on 1 June 2011 and was completed on time and within budget, Sapphire said.
Green Crude Farm, also known as an Integrated Algal Bio-Refinery, comprises 300 acres of algae cultivation ponds and processing facilities and is expected to produce 1.5m gallons per year of crude oil upon completion.
The initial phase includes mechanical and processing equipment needed to harvest and extract algae and recycle water for the 300 acre farm, as well as some of the largest algae ponds ever built.
The facility was funded with both private and public funds, including $85m in private investment from Sapphire backed by a US Department of Agriculture loan guarantee and a $50m grant from the US Department of Energy.
Sapphire Energy CEO Cynthia Warner said bringing the Green Crude Farm online is not only an important accomplishment for the firm, but a critical step toward a viable alternative energy future.
"What was once a concept is now becoming a reality and model for growing algae to make a renewable crude oil for energy," said Warner added.
"We look forward to sharing our progress as the Green Crude Farm moves to its next stage."
---
Image: Sapphire Energy's Green Crude Farm in Columbus, New Mexico. Photo: courtesy of Sapphire Energy.