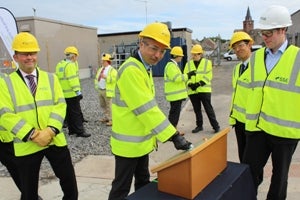 Scotland's public utility supplier Scottish Hydro Electric Power Distribution (SHEPD) has connected Britain's first large-scale battery to the electricity distribution network on Orkney.
According to SHEPD, the trial will explore how large scale batteries can help achieve more renewable generation connected to the grid and how effectively it can store surplus renewable energy to help keep the lights on.
The trial has been funded by Ofgem's Low Carbon Networks Fund, which supports projects by electricity distribution network operators to experiment new technology, operating and commercial arrangements.
SHEPD has installed the 2MW lithium ion battery at Kirkwall Power Station and builds on the work already carried out in delivering the world's first active network management scheme.
Mitsubishi Power Systems Europe and Mitsubishi Heavy Industries have jointly developed the battery.
"Mitsubishi Power Systems Europe and Mitsubishi Heavy Industries have jointly developed the battery."
The technology deployed in the battery has already been proven earlier during a similar trial run by Mitsubishi in Nagasaki, Japan, and is being used in electric vehicles in the UK.
SHEPD commercial head Mark Rough said the trial will provide valuable research into the feasibility of using batteries for electricity storage.
"This is likely to become increasingly important to help balance the variable output from renewable forms of generation as we move to a largely decarbonised electricity generation mix," Rough said.
According to Rough, the installation of the battery will not provide an immediate solution to the current constraints on the Orkney distribution network; however, it is expected that in the long term, the result of the studies will help demonstrate that batteries could provide a cost effective way of freeing up capacity on the network.
UK cabinet secretary for finance, employment and sustainable growth John Swinney said: "Today's announcement by SSE reinforces that Scotland is leading the way when it comes to developing and testing new ideas that may help us meet the electricity and energy needs of the future.
"Smart grid technologies such as these being pioneered in Orkney are increasingly important as we move to a low-carbon economy."
---
Image: Mitsubishi's Tsutomu Hashimoto officially connects the battery. Photo: courtesy of SSE.