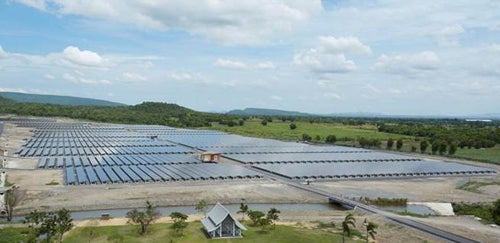 Japan-based Sharp has completed construction on a large-scale solar power generation plant in Lop Buri Province, Thailand.
The company has built a 10.3MW power generation facility adjacent to a 73.2MW facility that was completed in March 2012.
The two sites have a combined output of about 84MW, making it one of the largest solar power generation plants in Thailand.
Natural Energy Development will operate the plant and will receive capital from DGA, a subsidiary of Mitsubishi, which controls independent power producer business in South East Asia and Taiwan.
Sharp collaborated on the design and construction of the plant with two companies, Italian-Thai Development and ITALTHAI Engineering.
The company supplied about 640,000 thin-film modules for the plant, which is built on 2.16km² of land, while Sharp Solar Maintenance Asia will provide maintenance services for the facility.
Solar power in Thailand is targeted to reach 95MW by 2016, and 500MW by 2022.
Earlier this year, Germany-based Conergy received an order to build three photovoltaic solar power plants in Thailand with a total capacity of 31.5MW, for Siam Solar Energy 1, a subsidiary of Thai Solar Energy Company.
---
Image: The new 10.3MW power generation facility has been built in Lop Buri Province. Photo: Courtesy of Sharp.