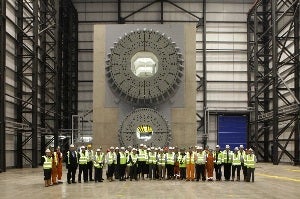 Shepherd Construction has completed the construction of a new £80m blade test facility in Northumberland, UK.
The facility, which will test offshore wind turbine blades, was delivered for the National Renewable Energy Centre (Narec).
Narec CEO, Andrew Mill, said: "Narec will now commission the new facility ready for commercial operations at the start of next year."
The 123m offshore testing building features a 5,700m² steel frame structure and a test hub that will support the blades during testing.
Shepherd Construction built the test hub, which features a 15m high concrete superstructure with two huge rings. The top ring, with a 8m diameter, can test blades up to 100m, while the bottom ring can test blades of a smaller root diameter.
The company has also manufactured and fixed special winches to 132 circular steel rings in the floor which will be used to flex the blades during testing.
Andrew Constantine, Shepherd Construction commercial director, said the project team created a solution with calculated tolerances that will enable the structure to withstand the rigours of testing.
"This makes it all the more worthwhile to see the blade test facility handed over and on its way to helping the UK further advance the offshore renewable energy," said Constantine.
Project management and cost management services were undertaken by Turner & Townsend.
Jonathan Lunn, Turner & Townsend associate director, said: "The unique nature and physical magnitude of the facility has required an extensive mix of both precision engineering and traditional construction expertise."
---
Image: The Development Team of the new 100m Blade Test Facility at the National Renewable Energy Centre (Narec) Photo: courtesy of Narec.