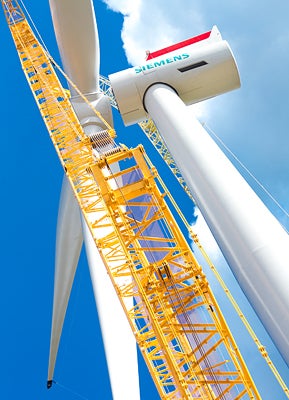 Siemens has secured an onshore order to deliver 60 wind turbines for the 138MW Jeffrey's Bay wind power plant in the Eastern Cape, South Africa.
Construction of the proposed renewable energy project, which would cater to national need for clean electricity, is expected to begin in the second quarter of 2012.
Siemens will supply the wind turbines, each with a 2.3MW capacity and a rotor diameter of 101m, for the Jeffrey's Bay plant, in addition to servicing the wind turbines for a period of ten years.
The overall supply, installation and service order is valued at over €880m.
Turbines and equipment will be delivered to a consortium comprising of Mainstream Renewable Power, Globeleq, Thebe Investment, Enzani Technologies, and Usizo Engineering.
The latest order for the plant marks Siemens' market entry into South Africa's wind power sector.
Since July 2012, the firm said it has received a total of 16 orders for over 270 onshore wind turbines from Europe and South Africa.
These renewable projects have a combined capacity of 730MW, which is enough to supply 730,000 households with clean electricity. The company said 560MW of the total was booked in the fourth quarter of fiscal 2012.
Siemens will provide service and maintenance for three wind farms in Denmark, Sweden, and the UK; for two projects in Croatia and Turkey; and for one project in Macedonia, Poland and South Africa.
Siemens Energy Wind Power Division CEO Felix Ferlemann said: "The orders from Europe and our market entry in South Africa clearly demonstrate that we are continuing along the right path, also with our onshore business."
---
Image: Siemens will deliver 60 wind turbines for Jeffrey's Bay power plant in South Africa. Photo: courtesy of Siemens.