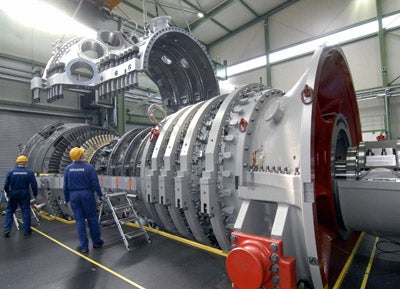 Siemens Energy has received a contract from Stadtwerke Düsseldorf to build a 595MW Lausward combined cycle power plant (CCPP) in Düsseldorf, Germany.
The single-shaft plant will be built at the Düsseldorf port on the existing Stadtwerke Düsseldorf power plant site and will employ Siemens' H-class combined cycle gas and steam turbine technology.
Siemens will supply a SGT5-8000H gas turbine, a SST5-5000 steam turbine, a SGen5-3000W generator and a Benson heat recovery steam generator with an in-house design and the SPPA-T3000 I&C system along with other auxiliary systems.
The contract's value is between €400m and €500m and includes a long-term maintenance contract for the supplied components.
Siemens CEO for its Energy Fossil Power Generation division, Roland Fischer, said: "Thanks to our revolutionary gas turbine technology, the Lausward plant will also set a world record for fuel efficiency, thereby playing an important role in achieving the objectives of the energy turnaround and climate protection in Germany."
The generated thermal energy will extract 300MWth of district heat for the use by the city.
Stadtwerke Düsseldorf chairman of the managing board, Udo Brockmeier, said: "With the fuel utilization factor of around 85% it will make a substantial contribution to achieving Germany's climate protection targets."
---
Image: Siemens Energy's SGT5-8000H gas turbine will have an electrical unit output of around 595MW and a net efficiency of over 61%. Photo: courtesy of Siemens Energy.