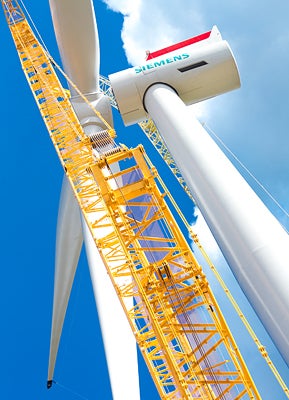 Power equipment manufacturer Siemens will supply and install 80 wind turbines for the Butendiek offshore wind power plant, off Germany's North Sea coast.
Under the €700m order from Germany's wpd group, the company will also provide services for the 288MW wind power plant, which will feature SWT 3.6-120 class machines.
In addition, the latest order covers a long-term maintenance contract for a period of ten years.
Located about 32km to the west of the island of Sylt, the wind farm will generate enough clean electricity to power about 370,000 households in the region when it comes online in 2015.
Siemens-supplied turbines, each with a capacity of 3.6MW and a rotor diameter of 120m, will be erected across a surface area of 42km² in waters measuring about 20m deep.
The company will also provide a comprehensive service package to the Butendiek offshore project to ensure maximum long-term exploitation of the wind farm's power potential.
The Butendiek wind project has five investors: Siemens Financial Services, wpd, Industriens Pension, Marguerite Fund, and PKA A/S.
These companies secured the financing, with a total project volume of €1.3bn.
It is the second project-financed offshore wind farm in Germany for which Siemens is providing turbines and services.
Siemens Energy Service division CEO Randy Zwirn pointed out the reliability and output of wind turbines for uninterrupted power supply.
"This holds true on land just as it does under the harsh conditions at sea," Zwirn said.
"Our experienced service technicians and intelligent maintenance concepts help to reliably maintain wind turbine performance over the entire estimated service life of these units – for up to 25 years."
Siemens Energy Wind Power division CEO Felix Ferlemann stated; "By 2020, we estimate that the combined installed electrical generating capacity of wind power installations worldwide will reach 500GW."
Commenting on the maritime wind power, Ferlemann said it is "playing a key role" in the energy turnaround efforts of Germany.
"Its broad acceptance among the general public and significantly higher energy capture than onshore installations are particular points in its favour."
---
Image: Siemens will deliver 80 turbines of 3MW each for the Butendiek offshore wind power project in Germany's North Sea. Photo: Courtesy of Siemens.