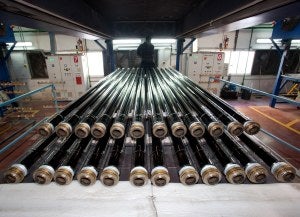 Siemens has won an order from Shiram EPC to supply solar receivers for a 50MW solar power project in Rajasthan, India.
The company will supply 17,000 universal vacuum air collector (UVAC 2010) receivers for the plant, which currently under construction.
Siemens Solar thermal energy business unit CEO Shmuel Fledel said the company views this first order from Shiram EPC as a demonstration of its trust in the company's know-how and technology.
"The Indian CSP market is rapidly developing, and with this step we strengthen our business for CSP technology," said Fledel.
The Abhijeet concentrating solar thermal plant is being constructed as part of the Jawaharlal Nehru national solar mission (JNNSM), the Indian government's ongoing programme for promoting solar power.
Abhijeet senior vice president for solar business M.K Prasad said the company is pleased with the performance and the durability of the UVAC 2010.
"CSP plants have a long lifetime, and we know that we can rely on Siemens to provide the plant with thermal heat for many years," said Prasad.
Caption: Siemens will supply 17,000 receivers to Shiram EPC. Caption: Image courtesy of Siemens.