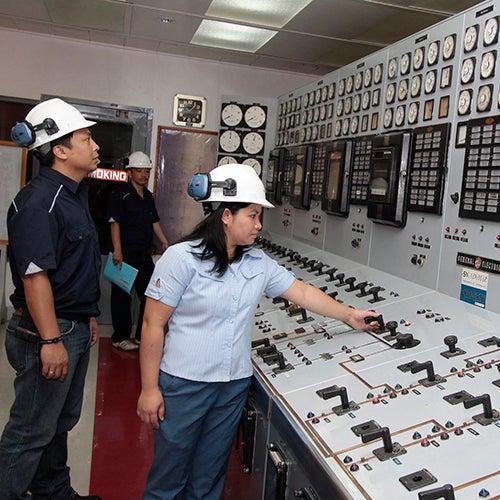 />
SN Aboitiz Power – Benguet (SNAP-Benguet), a subsidiary of Aboitiz Power, was granted a five-year certificate of compliance (COC) by the Energy Regulatory Commission (ERC) for the rehabilitated 125.8MW Binga hydroelectric plant in Benguet, Philippines.
The certificate, which is required to be renewed six months before its expiry date, stipulates that the company has met all the necessary requirements, including technical, financial and environmental aspects, ordained in the revised rules to grant COCs for generation facilities.
Built in Barangay Tinongdan, Itogon, the plant, which started commercial operations in 1960, was originally operating four Francis turbines of 25MW capacity each with an annual production of around 350GWh.
Following the rehabilitation works that started in 2011, the plant's capacity has been increased to 125.8MW with an estimated annual production of about 419GWh of clean electricity.
As part of the rehabilitation, the company built a new intake at higher elevation, new headrace, replaced and modernised the plant control system and replaced electro-mechanical components.
Built four years after the Ambuklao plant, the Binga plant, which has 50 years of economic life, upgraded the units sequentially as it is an operating plant.
"The Binga plant upgraded the units sequentially as it is an operating plant."
In July 2008, NAP-Benguet took over the Ambuklao and Binga plants under the government's power sector privatisation programme. It started construction and civil works on the Binga plant in 2010.
SNAP-Benguet president and CEO Emmanuel Rubio said that the certificate represents the increase in capacity at Binga to 125MW from the original 100MW and besides, the plant can produce up to 132MW.
"Aside from providing a significant amount of clean and renewable energy to communities, this also means that we will be able to contribute to energy security by adding additional power generation capacity to the grid," Rubio said.
---
Image: Implementing best practices in operations at Binga hydro power plant. Photo: courtesy of SNAP-Benguet.