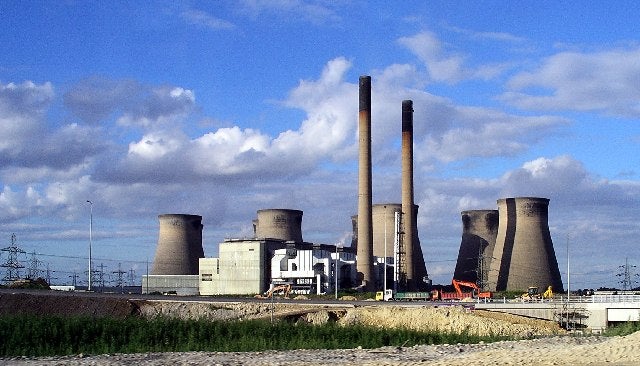 Energy giant SSE has warned that the UK could face a "lights out" situation due to the government's lack of clarity on energy policy, and said it will cut capacity and delay investments in gas-fired electricity generation until 2015.
After completing a review of its assets, SSE has decided to close about 2,000MW of existing thermal generation capacity in 2014.
The cuts are expected to affect the company's power plants located at Ferrybridge, Keadby, Slough Uskmouth and Peterhead.
SSE said the review has been conducted against a backdrop of "challenging energy market conditions," including the early introduction of a carbon price floor at an "unexpectedly high level"; and the move towards full auctioning of CO2 emissions allowances under the EU Emissions Trading Scheme.
In his UK Budget statement this week, Chancellor of the Exchequer George Osborne said the carbon floor price will increase to £18.08 in April 2015.
"The review has also been influenced by the prolonged and ongoing uncertainty around the UK Government's Electricity Market Reform. In particular, a lack of clarity on both the timing and operation of a capacity mechanism means there is huge uncertainty regarding future revenue streams for existing thermal plant and what level of return might be achieved by new investments in thermal generation plant," the company said in a statment.
Ofgem recently expressed concern about the tightening of the UK's generation capacity margin, following expected plant closures in the next few years, predicting a 1:12 chance of the lights going out.
SSE chief executive Ian Marchant said; "It appears the Government is significantly underestimating the scale of the capacity crunch facing the UK in the next three years and there is a very real risk of the lights going out as a result."
"The Government can reduce this risk very easily, by taking swift action to provide much greater clarity on its electricity market reforms and bringing forward capacity payments for existing plant from 2018 to 2014."
Reacting to Marchant's comments, UK Energy Minister John Hayes said that the government is aware of the challenge it is facing.
"We are not complacent about this, which is why we have an insurance policy – the capacity market. We're considering how and when this can best be used to bring about any necessary increase in supply or reduction in demand," said Hayes.
SSE currently owns or has a stake in over 4,300MW of gas and oil-fired generation capacity, over 4,300MW of coal-fired generation capacity and 80MW of capacity at its biomass plant in Slough.
---
Image: The Ferrybridge plant is one of the five power plants which will be affected by the cuts. Photo: Courtesy of Lynne Kirton.