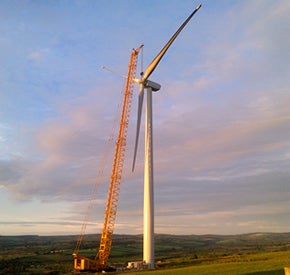 SSE Renewables has installed the first turbine at the West Limerick wind farm located in County Limerick, which has triggered the installation of a total of 16 turbines at Athea wind farm.
All 16 turbines, which will have a capacity to generate 34MW, will be installed by November 2013.
The wind farm is capable of supplying power to almost 17,000 homes once the construction is complete.
More than 200 jobs have been created during the project construction phase of the Athea wind farm.
SSE Renewables' Tournafulla (27MW), Dromada (28.5MW) and Rathcahill (12.5MW) wind farms are located beside the Athea project and have a combined generation capacity of more than 100MW.
It is expected that the SSE project generate an investment of around €7m for the local community.
Athea wind farm project manager Seamus Lynch said: "We've reached an important milestone with the erection of the first turbine. This achievement is a result of much hard work and dedication by a number of colleagues across our business.
"As we move into a critical and exciting phase of the project, we have been working closely with the local council and wildlife groups to ensure that everything is in place for us to erect the turbines with the minimum disruption to the surrounding communities and natural habitats."
---
Image: After completion, the wind farm will supply power to nearly 17,000 homes. Photo: courtesy of SSE.