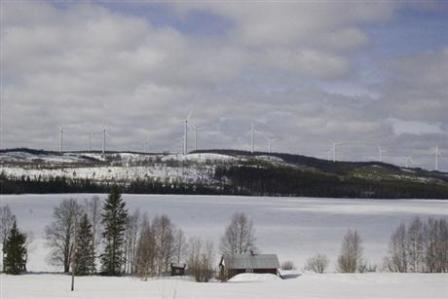 Norwegian renewable energy group Statkraft plans to invest NOK5.2bn ($905.37m) to build two wind farms in Sweden through its joint venture with Svenska Cellulosa.
With these two new projects, Statkraft will have four major wind farms under development in cooperation with Svenska Cellulosa in the country.
Work will start immediately for the Björkhöjden and Ögonfägnaden wind farms, which are expected to produce on average 1,090GWh of electricity per year.
The two new projects, which will have a total of 123 wind turbines with an output of 3MW each, will be built in Jämtland and Västernorrland counties, northeast of Östersund in Sweden.
The 99MW Ögonfägnaden wind farm will be completed as early as 2014, while the 270MW Björkhöjden wind farm will start operations in two stages – in 2014 and 2015.
Statkraft president and CEO, Christian Rynning-Tønnesen, highlighted the significance of wind power and its contribution in the transition to a future low-carbon society.
"These projects in partnership with SCA will strengthen Statkraft in its work to establish a solid platform for profitable and cost-efficient wind power production in Norway and Sweden," Rynning-Tønnesen said.
Two other projects being built by the partners in the same area are the 60MW Stamåsen wind farm and the 85MW Mörttjärnberget wind farm.
Last week, Statkraft officially opened its first offshore wind farm, Sheringham Shoal Offshore Wind Farm, off the coast of Norfolk, England.
---
Image: Statkraft will build two more wind farms which are expected to produce on average 1090GWh of electricity per year. Photo: courtesy of Statkraft.