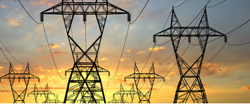 Sterlite Grid, a subsidiary of Sterlite Technologies, has won two contracts worth INR6.5bn ($104.1m) from Power Finance Corporation of India to develop major transmission projects on a 'build, own, operate and maintain' (BOOM) basis.
The company is likely to commission these transmission lines in 28 months, then operate and maintain them for a minimum tenure of 35 years.
The first contract calls for the construction of a network of about 200km-long 400kV double circuit line to evacuate and transmit power from the Rajasthan Atomic Power Project's (RAPP) units seven and eight near Kota in Rajasthan to Shujalpur in Madhya Pradesh.
Once operational, the RAPP units seven and eight transmission project will also further enhance power transfer capability from Northern Grid to Western Grid.
Having already begun construction on the pressurised heavy water reactor seven and eight of 700MWe each, NPCIL, the plant owner, is likely to bring them online in June 2016 and December 2016, respectively.
The second contract, called 'ERRS-7', calls for the construction of two 400kV double circuit lines between Ranchi and Chaibasa in Jharkhand, besides Kharagpur and Purulia in West Bengal with a total length of around 450km.
"The transmission project will also further enhance power transfer capability from Northern Grid to Western Grid."
The ERRS-7 project, which will include 400kV multi-circuit towers near Ranchi substation, will strengthen its presence in the eastern region following the recent commissioning of the Purnia-Bihar Sharif transmission line.
Early this month, Sterlite Grid has commissioned the 231km-long, 400kV double-circuit quad transmission line connecting Purnia and Bihar Sharif substations in Bihar that will transfer power from hydro plants in the North Eastern region.
Sterlite Technologies director Pravin Agarwal said that these projects will fortify its presence in Eastern and Western regions and represent the company's foray into Rajasthan and Jharkhand states.
"Furthermore, in terms of growth potential in the transmission sector, these states have significant growth potential and fit well in our future growth plans," said Agarwal.
---
Image: Sterlite Grid to commission transmission lines for Power Finance in India. Photo: courtesy of Sterlite Technologies.