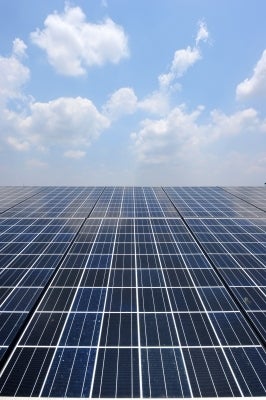 US solar service provider SunEdison has closed a $212.5m non-recourse debt financing arrangement with World Bank member International Finance Corporation (IFC) and the US federal finance institution Overseas Private Investment Corporation (OPIC) for the 100MWp Amanecer Solar CAP project in Chile.
The arrangement is comprised of $65m of debt by IFC and $147.5m loan by OPIC, and together with Rabobank's local Chilean Peso VAT facility of $45m, the debt for this transaction totals approximately $260.5m.
The company will use the debt proceeds of the loan to finance the development, construction, commissioning and operation of the solar PV plant in the Atacama Desert region.
The plant, which will feature more than 300,000 SunEdison Silvantis modules mounted on single-axis solar trackers covering an area of around 215 hectares, will generate 270GWh a year of clean energy and curb 135,000t of CO2 emissions.
SunEdison has established a special purpose vehicle at Amanecer Solar to develop the project, construction of which was started in August 2013 and is likely to be completed during the first quarter of 2014.
The company will carry out the project's interconnection in different phases throughout the fourth quarter of 2013 and first quarter of 2014, and will ultimately connect it to the central interconnected system (SIC).
In February 2013, SunEdison signed an agreement with Chilean mining and steel group CAP to build the Amanecer Solar CAP plant, which is likely account for up to 15% of CAP's energy needs.
"The project will help Chile diversify its energy sources away from hydro, gas and coal and enhance the country's energy security."
According to OPIC, the project will help Chile to diversify its energy sources away from hydro, gas and coal and enhance the country's energy security. The project results from a 2008 Chilean Government initiative to promote renewable energy development in the country.
SunEdison Europe, Middle East, Africa and Latin America president Pancho Perez said that the company has partnered with OPIC and IFC and closed the project financing for Amanecer Solar CAP.
"Amanecer Solar CAP is a landmark project that enables the deployment of solar energy in Chile in a meaningful way. Developing sophisticated energy solutions while reducing electricity costs has been a key differentiator of SunEdison's success in Chile," said Perez.
---
Image: SunEdison's modules to power Amanecer Solar in Chile. Photo: courtesy of Freedigitalphotos.