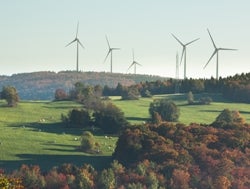 Wind turbine manufacturer Suzlon Energy has unveiled plans to launch its latest turbine, focused on harnessing low-wind sites, in India.
The S8X turbine in Suzlon's 1.5MW range is designed with rotors measuring between 86.5 and 89m and a tower height of 90m and is expected bring improvements in energy yields of between 15 to 20% over the current S82 – 1.5MW offering in low wind conditions.
Suzlon Energy president John O'Halloran said the S8X builds on the company's operating experience with the successful S82 – 1.5MW fleet in some of the most challenging environments in the world.
"The S8X features advanced blade designs and highly efficient control systems to optimize loads and performance – delivering higher reliability, significantly improved energy output and ultimately, increased financial performance for our customers," said O'Halloran.
"These turbines will be built to the latest guidelines issued by certification agencies, with even more advanced and stringent testing standards than previous guidelines."
The turbine, scheduled to launch this year, is also designed to operate in high temperatures and to meet the current and future grid requirements in India.
Image: Suzlon is focused on bringing a new wind turbine to India that can harness low-wind sites. Image courtesy of Suzlon