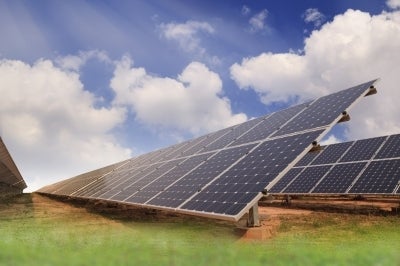 Total has been selected as the preferred bidder for an 86MWp ground-mounted solar power project by South Africa's Department of Energy (DoE) under the third round of the Renewable Energy Independent Power Producer Procurement Programme (RIEPPPP).
SunPower, an affiliate of Total, will provide its Oasis Power Blocks system, a fully integrated solution using its high efficiency solar panels and single-axis trackers, and will also provide engineering, procurement, construction services and long-term operation and maintenance for the project.
Located in Prieska, Northern Cape, the project is expected to generate around 210GWh of power annually, enough to power around 45,000 homes, and sell its output to the South African utility Eskom under a power purchase agreement.
The partners in the $200m project include Total (27%), Calulo Renewable Energy (25%), Mulilo Renewable Energy (18%), the Industrial Development Corporation (IDC) (15%), Futuregrowth Asset Management (10%) and a Local Community Trust (5%).
The project will be financed 80% through non-recourse project debt from South African banks, while the remaining 20% equity portion will be funded by project partners based on their respective ownership interests.
"The project is expected to generate around 210GWh of power annually, enough to power around 45,000 homes."
Total executive committee member Philippe Boisseau said that the DOE has selected the company for the project, which proves the company's ability to deliver, with their affiliate SunPower, the best technology at a competitive price.
Boisseau said: "Total has been present in South Africa for almost 50 years and remains very committed to the country.
"As a world leader in the solar industry, we are pleased to assist South Africa in the diversification of its energy mix, with the development of increased solar capacity in the country, along with other energy sources. We believe there is a huge potential in the solar market."
In the third round of bidding under REIPPPP, the DOE chose 17 preferred bidders, including six for 450MW solar PV, two for 200MW solar thermal, seven for 787 MW onshore wind, and one each for 16.5MW biomass and 18MW landfill gas.
---
Image: Total and its affiliate SunPower to develop 86MWp Prieska solar project in South Africa. Photo: courtesy of Freedigitalphotos.