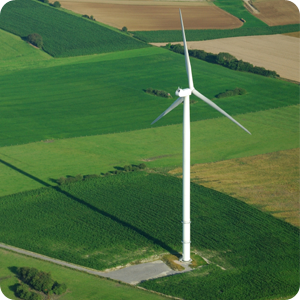 Tri Global Energy has established Hale Community Energy, a joint venture partnership created by combining its four proposed community-owned wind projects totaling 1,100MW capacity: Hale County Wind Farm, CottonWind Farms, Lakeview Wind Farms and East Mound Renewable Energy Project.
The project, which is touted as the world's largest community-sponsored wind farm, will feature around 500-650 turbines, spanning more than 122,000 acres, owned by 340 different landowners, in southern Hale County and Floyd County.
The company plans to develop the project in five phases with 200MW phase one expected to be operational in 2015, while the remaining phases to come online by 2018. The project, which has more than 450 shareholders, will be interconnected with two national grids within one project area.
The interconnection point for the first phase is likely to be the Briscoe County Substation being built by Sharyland Utilities 20 miles northeast of the project, while the 250MW second phase's interconnection point will be the SPP 345kV Tuco substation located adjacent to the southwest boundary of the project.
A new 345kV transmission line that is planned for completion by mid-2014 from Tuco to Woodward, Oklahoma will pass through the southern part of the project.
The project is likely to supply around 500MW to the Electric Reliability Council of Texas, while the remaining 600MW will be delivered to Southwest Power Pool Electric Energy Network.
"The construction of the wind turbines will create many temporary jobs in the area."
Many of the shareholders are landowners and those who have leased land for the project will get a share of the royalties for the electricity once the project becomes operational.
If the company begins initial construction during 2014 as scheduled, then the entire project will qualify for any tax credits and federal incentives.
Tri Global senior vice-president of investor relations, Curtis King, said that the construction of the wind turbines will create many temporary jobs in the area.
"Once we get the wind farm up and running, there will be at least 100 permanent jobs. These will be high-paying jobs. It's not something that will be around for just 10 years, wind farms will be a permanent fixture that will go on for several generations," said King.
---
Image: Hale County in Texas to host 500-600 wind turbines. Photo: courtesy of Tri Global Energy.