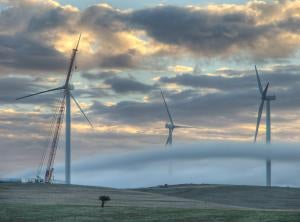 New Zealand's TrustPower and Siemens Australia have announced the start of construction at the $439m Snowtown II wind farm with the turning of the first sod.
The project is a 90-turbine expansion of the existing Snowtown wind farm located on the Barunga and Hummocks ranges west of Snowtown in the Mid North of South Australia.
It is capable of generating a further 270MW of renewable power the region and is expected to be completed and fully operational by 2014.
Electricity company TrustPower, which built Snowtown I in 2008, appointed Siemens as its turn-key supplier for Snowtown II in July 2012.
With the construction of theSnowtown II wind farm, Snowtown as a region would boast a combined renewable energy generation total of up to 370MW.
TrustPower chief executive Vince Hawksworth said: "Snowtown is a perfect location for renewable wind generation. From the time we first considered the Snowtown site we have been delighted with the willingness of landowners, the community and local authorities to work with TrustPower to make this investment in the state of South Australia possible."
Siemens is responsible for installing gearless drive turbines on the site, including the procurement, supply and engineering of substations, switchgear and transformers.
Siemens Australia CEO and managing director Jeff Connolly said the wind farm takes renewable energy generation in the country to "the next level".
"The rotor blades are superior – cast in one-piece they are structurally and aerodynamically best suited for strong wind conditions," Connolly added.
"This combined with the world's most efficient gearless direct-drive wind technology, will deliver a wind farm amongst the most technically-advanced and most economically efficient in Australia."
---
Image: The Snowtown wind farm located in the Mid North of South Australia. Photo: courtesy of Clarkecb.