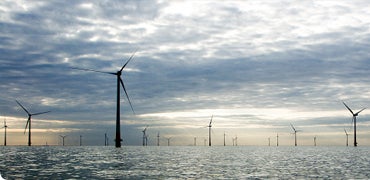 UK Energy Secretary Edward Davey has given Vattenfall the go-ahead to extend its Kentish Flats offshore wind farm, located off the coast of Kent.
Seventeeen more turbines will be added to the 90MW wind farm, which has been operational since 2005 and currently has 30 machines.
With the expansion, the wind farm's installed capacity will increase by up to 51MW, and power nearly 96,000 British households.
The company is expected to develop the extension in a zone located 7km from the shore and covering about 8km².
Davey said that the offshore wind farm will provide clean energy, support jobs and generate major investment in the region.
"Vattenfall's decision to extend an existing project reflects the ongoing attractiveness of the UK as a place to do business in renewable energy," Davey said.
Vattenfall was offered the opportunity to extend the Kentish wind farm in May 2010 by the UK Crown Estate.
The company has carried out consultations with the local community, local authorities and statutory consultees regarding the extension.
---
Image: The 90MW Kentish Flats wind farm, located off the coast of Kent, England. Photo: Courtesy of Vattenfall.