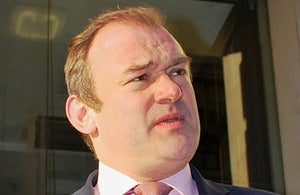 Cumbria Country Council in the UK has voted to opt out of the process to find a location for a £12bn underground nuclear waste facility, a decision which could hurt plans for new nuclear in the country.
The council has vetoed an advanced 'stage four' search that included geological investigations and discussions over the possible economic and social implications of the project.
Copeland Borough Council voted in favour of the plans, but it has been previously agreed that both councils must vote positively in order for the search process to continue in west Cumbria.
The UK government is now embarking on a renewed drive to convince other communities to host a geological disposal facility (GDF), and encourage other local authorities to do the same in the coming years.
"No changes to the current approach will be introduced without further public consultation," a Department of Energy and Climate Change (DECC) release noted.
Energy Secretary Edward Davey said Cumbria County Council's decision was "disappointing", but insisted that Cumbria will continue to play a significant role in Britain's energy and nuclear power sectors.
"I am confident that the programme to manage radioactive waste safely will ultimately be successful, and that the decisions made in Cumbria today will not undermine prospects for new nuclear power stations," Davey said.
"The fact that Copeland voted in favour of entering the search for a potential site for a GDF demonstrates that communities recognise the benefits associated with hosting such a facility."
Nick Woodward, principal and the Energy and Utilities Sector Lead at Moorhouse said the thought that local communities might hold up or prevent generation sites being developed will worry potential investors.
"Less than 1% of the UK population live in Cumbria, yet the power of local democracy there could have long term consequences for the security of UK energy supply. The UK is reliant on foreign investment to build the future power generation, nuclear or not. Generation that we must have to meet our long term needs.
"The current economic climate is driving the fervour across the political spectrum that "companies" are bad and must be regulated more to stop prices rising for hard up consumers. Will foreign investors still want to put their money here if we constrain their activity through regulation? Perhaps not," added Woodward.
But Stephen Tindale, associate fellow of the Centre for European Reform said the announcement by Cumbria County Council will make little difference to the UK's nuclear plans.
"We already have an enormous quantity to store/dispose of…And waste shouldn't be used as a reason against new nuclear – it's better to keep the waste down here than to emit it – in the form of greenhouse gases – into the atmosphere, where we can do absolutely nothing about it."
---
Image: Energy Secretary Ed Davey said the decisions made in Cumbria will not undermine prospects for new nuclear power plants. Photo: Courtesy of Gov.uk.