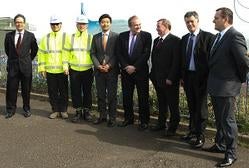 UK Energy Secretary Edward Davey has opened the Fife Renewables Innovation Centre (FRIC) in Methil, Scotland.
Situated on the east coast of Scotland, the £3m facility will offer space for companies involved in the renewables industry.
FRIC is a further expansion of the Energy Park Fife, a joint venture project between Scottish Enterprise and Fife Council.
The centre extends to about 2,000m² over two floors and will offer work spaces and research facilities designed to enable technology and knowledge transfer.
Early occupants of the centre include Samsung Heavy Industries, Reach Engineering & Diving Services, Hydrosphere, and Energy Project Management.
Samsung Heavy Industries will install and test a 7MW offshore wind demonstrator turbine at Energy Park Fife over the next five years.
In November 2012, work started on the first phase of the demonstrator project after commencing work on the onshore metrological mast in Energy Park Fife.
Construction of the 196m offshore demonstration turbine is expected to start in spring 2013, after securing approval from the Scottish Government.
Davey said the centre is an example of Fife leading the way in attracting investment, encouraging innovation and creating jobs in the renewable energy sector.
"This benefits both Fife as well as the rest of the UK. Not only is Fife responding to the fast growing demands of renewable energy, they are creating the best environment for businesses to develop," Davey added.
The project has received £2,250,000 funding from Fife Council and £715,000 from the European Regional Development Fund.
Fife Council leader and councillor Alex Rowley said Methil is becoming a leading centre for renewables in Scotland and the UK.
"Other innovative and dynamic businesses on site at the Energy Park include BiFab, who started along in Burntisland," Rowley added.
---
Image: Edward Davey and Alex Rowley meet Samsung and BiFab team. Photo: Courtesy of Fife Council.