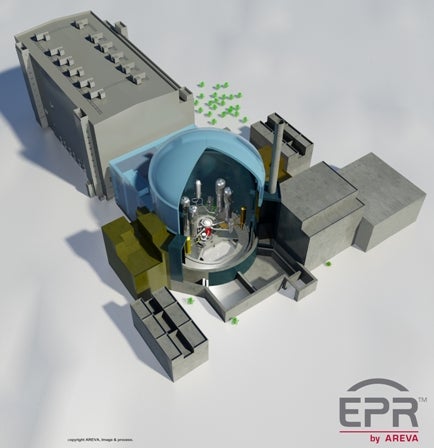 EDF Energy and French nuclear firm Areva have received generic design approval for their EPR rector, to be used at the proposed new nuclear power station at Hinkley Point in Somerset, UK.
The Office for Nuclear Regulation and the Environment Agency (ONREA) said the reactor meets regulatory expectations on safety, security and environmental impact.
Areva says that the EPR reactor, which has already been certified in China, France and Finland, is now the first and only generation III reactor design to receive certification in the UK.
EDF Energy plans to build two EPR reactors at Hinkley Point, while the company's final investment decision regarding the proposed nuclear project is expected "at the earliest possible date," said EDF Energy chief executive Vincent de Riva.
The firm is required to get site-specific consents and approvals from the concerned regulators before installing the reactor at any UK location, in addition to obtaining planning permission from the UK's Energy Secretary.
Minister of State for Energy John Hayes welcomed the decision and noted that the regulator has worked closely with the firms involved to ensure rigorous examination of this technology.
"These final reactor design approvals from the regulator cap an excellent year for nuclear new build in the United Kingdom, which I am confident will go from strength to strength in 2013," Hayes added.
Welcoming ONREA's decision, Areva chief executive Luc Oursel said: "The EPR reactor is the only generation III reactor under construction in three countries and now certified in four."
Prior to the approval, Areva had already signed memoranda of understanding with 25 British firms for the supply of components and services for the reactors to be used at Hinkley Point.
Commenting on the acceptance of EPR reactor design, de Rivaz said: "It represents four years of hard work and allows our project have a stable design before we start, offering a huge boost for the predictability of costs."
"Working with government to agree a Contract for Difference that offers a deal that is fair and balanced for both consumers and investors, our objective is to have all the main components in place in the next few weeks, so that we can take our Final Investment Decision for Hinkley Point at the earliest possible date."
---
Image: EDF Energy and Areva plan to build two EPR reactors at Hinkley Point in Somerset, England. Photo: courtesy of Areva.