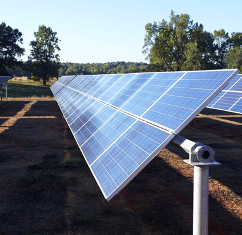 Overseas Private Investment Corporation (OPIC), a development finance institution of the US government, has $250m towards the development of its first 60MW solar power project in South Africa.
The financing will enable two American firms, MEMC Electronic Materials, and its subsidiary, SunEdison, to build and operate the solar photovoltaic plant in Boshoff, located in South Africa's Free State province.
Under a power purchase agreement, the electricity generated by the power plant will be sold to the national grid.
The project, which is expected to help diversify South African electricity generation beyond its heavy coal concentration, will also help meet the Black Economic Empowerment objectives of the programme.
OPIC president, Elizabeth Littlefield, said: "We're pleased to work with an experienced developer such SunEdison to deliver so many developmental benefits for South Africa, from the reduction of pollution and displacement of GHG emissions to the creation of local jobs and the realisation of the country's BEE programme goals."
Two local companies are involved in this project, which came in response to the new Renewable Energy Independent Power Producer Program of South Africa, as co-sponsors along with the US investors.
The solar project is anticipated to displace about 140,000t of greenhouse gas emissions in its first year alone, according to SunEdison.
---
Image: The electricity generated by the power plant will be sold to the national grid. Photo: courtesy of Akhil.Jariwala.