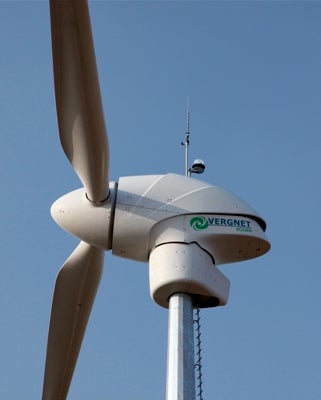 French wind turbine maker Vergnet has signed a partnership agreement with Bowler Energy, a part of the John Bowler Group, to develop wind power projects in England, Scotland and Wales.
Through the partnership the companies will develop turnkey medium wind energy projects including site feasibility, planning, finance, installation, commissioning, feed-in tariff (FiT) registration and a full package of warranties and after sales service.
The agreement will enable Bowler Energy collaborating with Vergnet to build its own projects as well as developments on behalf of investors.
The partnership will see both of the companies integrating their respective strengths and track record in the renewable energy, engineering and agricultural sectors.
Vergnet European sales manager Diana Popa said the company has signed a partnership with Bowler Energy that is based on shared common values of innovation, quality and customer care.
"The John Bowler Group has a very strong reputation in the farming sector and, like Vergnet, has a very solid business track record spanning 33 years and a reputation for delivering successful projects for customers and developers," Popa said.
Vergnet has a track record of more than 830 wind turbines to date, including 23 in the UK, while Bowler Energy has in-house planning, construction and financial teams with working experience in the renewable industry, specifically a track record in wind and solar project management.
"The new partnership builds on the continuous growth in the UK wind energy market."
The new partnership builds on the continuous growth in the UK wind energy market, according to RenewableUK's recent report, 'Small and Medium Wind UK Market'.
According to the report, the UK has recorded an all-time high in the rate of turbine installations across all scales of the small and medium wind sector in 2012.
The deployed capacity in 2012 was increased by 71% to 37.52MW from 3,743 turbines, up from 21.92MW from 3,086 turbines, at the end of 2011, the report claims.
The report has attributed the increase in deployment in small and medium wind turbines to the increase in demand for clean and affordable energy and FiT support.
---
Image: Vergnet, in partnership with Bowler Energy, will install its wind turbines in the UK. Photo: courtesy of Vergnet.