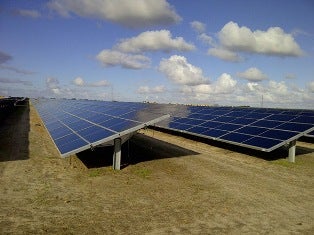 Verve Energy and GE Energy Financial Services have opened the 10MW Greenough River Solar Farm near Geraldton in Western Australia (WA).
The solar farm, said to be the largest in operation in the country, is expected to generate enough clean electricity to power 3,000 homes and displace 20,000t of greenhouse gases per year.
First Solar supplied over 150,000 of its advanced thin film photovoltaic modules and engineering, procurement and construction services for the plant.
The company will also provide operations and maintenance services for the solar farm for next 15 years.
State-owned power utility Verve Energy owns 50% of the Greenough River Solar Farm and remaining stake is held by GE Energy Financial Services.
The WA government provided A$20m ($20.50m) in funding for the project, which included A$10m ($10.25m) from the WA Royalties for Regions programme.
WA Energy Minister Peter Collier commented: "Today, the community is celebrating Australia's renewable energy future, and this is only the beginning. The Western Australia community has developed a genuine appetite for renewable energy, and today we are 10MW closer to a cleaner energy future."
Verve Energy CEO Jason Waters added: "With this landmark project now complete, partners Verve Energy and GE Energy Financial Services are now evaluating the possibility of expanding the plant to up to 40MW to satisfy growing demand for renewable energy," Waters added.
Under the power purchase agreement, solar energy generated at the plant will be bought by the WA Water Corporation to fulfill its Southern Seawater Desalination Plant's energy requirements.
GE Energy Financial Services managing director Matt O'Connor said: "We see incredible investment opportunities in Australia and look forward to expanding on this successful project and applying our expertise to help the country's renewable energy market grow."
---
Image: First Solar supplied about 150,000 solar photovoltaic modules for the 10MW project in Western Australia.